Applications for Unleash India
27 Apr, 2022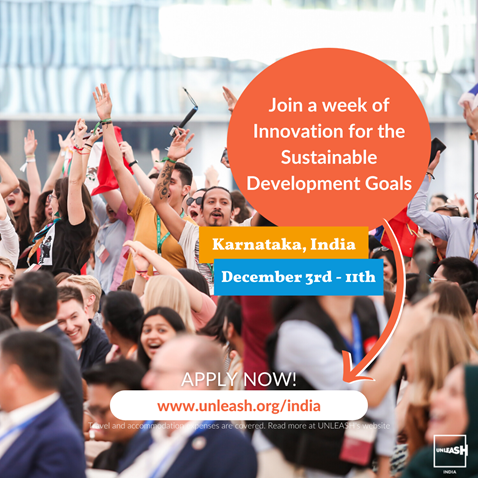 As you know, UNLEASH mobilizes young people and partners from around the world to drive action for the SDGs. By engaging with important partners like you, we can further scale this impact. We would like to thank Chulalongkorn University's International School of Engineering for being part of this journey and invite you to be part of UNLEASH 2022's newest chapter.

Over the years UNLEASH has brought together 5,000 talents from 167 countries, facilitated the development of 750 SDG solutions with 350+ partners. This year we are looking forward to hosting the lab in Mysore, India, from Dec 3rd to Dec 11th.

APPLICATIONS FOR UNLEASH INDIA WILL OPEN ON MAY 2ND!

You may check this link for more information and access the application portal which will be open from May 2nd until June 5th. UNLEASH will cover the costs of flight travel, visa, transport, accommodation, food, curriculum, facilitation, and program activities for the entire event. We look forward to providing a unique opportunity for young people in your network to innovate for the SDGs.

NEXT STEPS

1. Help us communicate UNLEASH's message: share UNLEASH's open call for applications with your network. You can find our media kit here, which includes e-mail templates and social media posts. Remember to tag @unleashlab and use #UNLEASHIndia so we can engage with your content. You can also find a sample social media post at the end of this email that you can use.

2. Feature as a Network Partner on our website: As part of being in our network, we would like to feature your logo on our partner page. Please share your logo with us here, so we can upload it.

If you have any further questions or wish to arrange a follow-up meeting, you are welcome to reach out to partner@unleash.org. We look forward to working with you again this year!