UNLEASH Plus 2021
6 Jul, 2021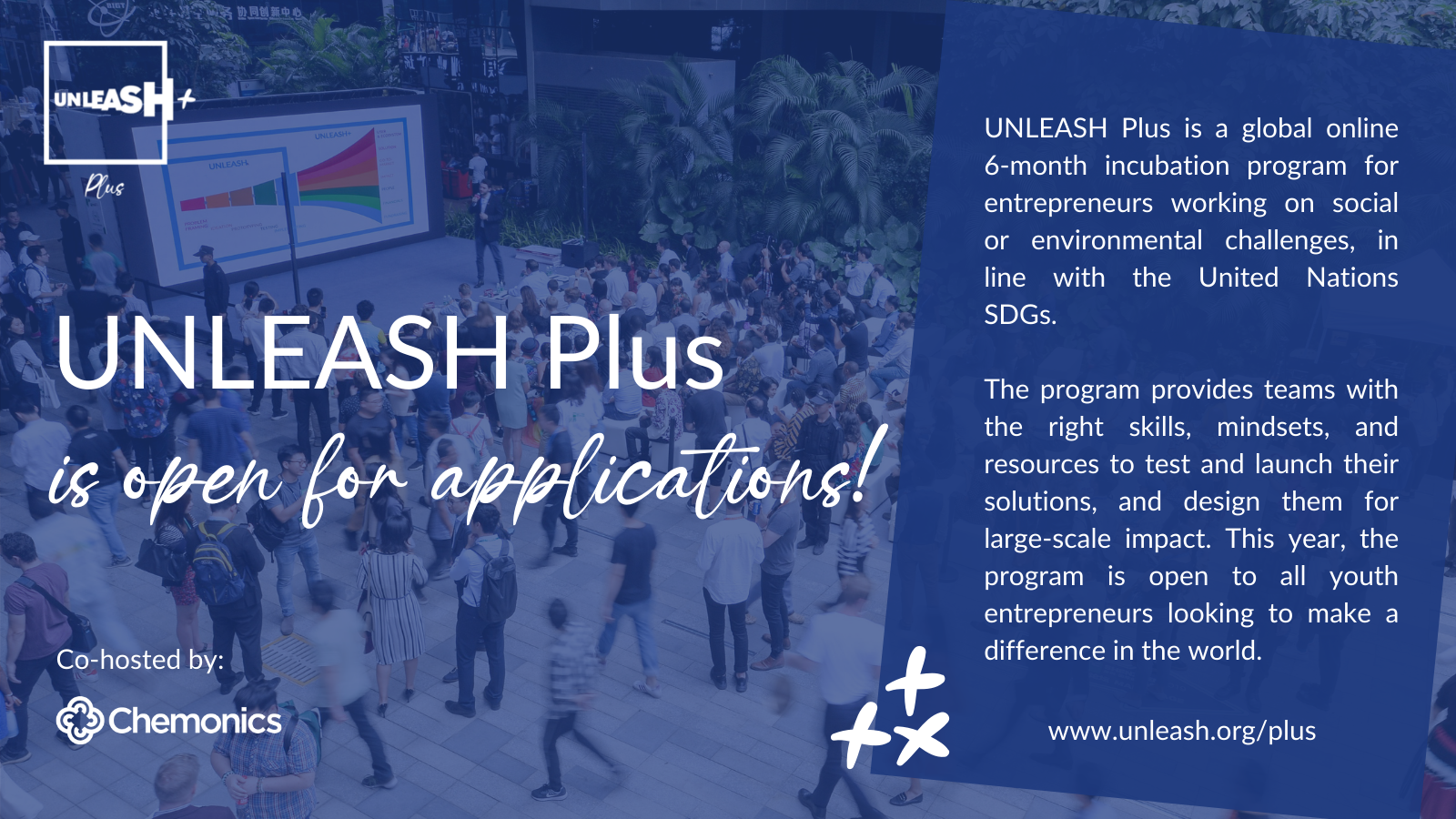 As a trusted UNLEASH partner, we are reaching out to you with an exciting opportunity for the young innovators in your network in hopes that you can help us spread the word about our upcoming UNLEASH Plus 2021 incubation program. After a successful second iteration in 2020, we are back with the third edition of UNLEASH Plus, with more exclusive opportunities for young entrepreneurs working towards the SDGs, including in-kind and grant awards!
UNLEASH Plus is a global 6-month incubation program, co-hosted with UNLEASH's Lead Scale Partner, Chemonics International, for entrepreneurs working on social or environmental challenges, in line with the UN's Sustainable Development Goals. The program provides teams with the right skills, tools, and resources to test and launch their solutions and design them for large-scale impact. This year, the program is open to all youth entrepreneurs, intrapreneurs, and activists looking to amplify solutions that advance the SDGs.
Please see the attached Executive Summary to learn more about the program details and see our website here.
Our Ask:
Please help us spread the word to reach as many new talents and teams as possible this year. We are looking for partners to contribute in three ways:
Share the attached social media post or the template email below with your network to help us spread the word. You can also share on your social media using these direct links - LinkedIn, Twitter, Facebook, and Instagram using #UNLEASH2021 and tag @unleashlab or use this blurb: Applications for @UNLEASHlab Plus are open! The global 6-month incubation program co-hosted by @Chemonics is looking for entrepreneurs working on social or environmental solutions for the #SDGs! Learn more and apply before July 25 at www.unleash.org/plus #UNLEASH2021


Identify experts within your organization or networks who can directly support teams in the incubation program using the email template attached or find out more here or applying here.


Support winning ideas through in-kind or grant awards. Please get in touch with us at plus@unleash.org if this is of interest.
Feature as an ecosystem partner on our website:
Please check whether your logo features on our website indicating your involvement as an ecosystem partner! If not, please share your logo with us so we can update it as soon as possible.